Restaurant Week in Newport, Rhode Island is quickly approaching. It is a full ten days of delicious opportunities for foodies, vacationers, locals, and anyone who likes to eat. In other words, this event is for everyone. Do not miss the chance to eat your way around Newport.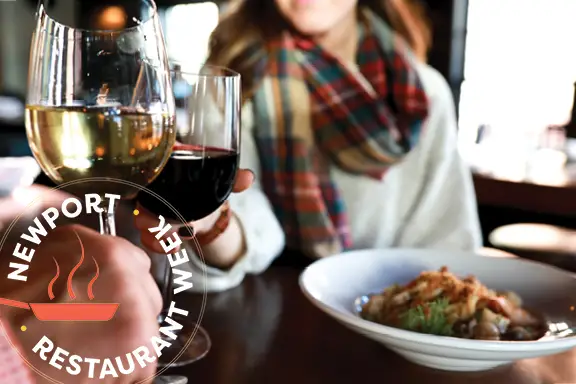 The discounts are amazing. Restaurants offer everything from buy-one get-one deals to prix-fixe menus. If there is a restaurant you have always wanted to try, the reasonably priced prix-fixe menus are a tasty way to sample their menu. Prix-fixe options range from $35 per person to $50 per person. Some restaurants offer lunch and dinner prices. Pick a time of day and price that fits your budget and sample some astounding flavors.
You can take advantage of some deals after Restaurant Week ends. Some restaurants offer markdowns on gift certificates during Restaurant Week. This is a perfect opportunity to plan a few future date nights all while saving a bit of money. If you are a really good planner, you can purchase date nights for an entire year in advance. While it may sound unromantic to some people, this level of planning adds anticipation to your life. You can end each meal looking forward to the next one. You can also plan ahead and purchase gift certificates for friends and family as holiday gifts. No one needs to know you got them at a discount (we certainly won't tell).
Take time to slow down before the big holiday season. The end of November and all of December is a very busy time period for many people. There are gifts to buy, relatives to visit, and travel to coordinate. Restaurant Week is held November 4-13, 2022. Take time to relax over a good meal before your schedule fills up with holiday commitments. This time is all about you and what makes you happiest and we think it is smart that the organizers plan the fall Restaurant Week right before things get really hectic.
Prix-fixe menus also help you slow down. Most prix-fixe menus consist of three courses. Instead of quickly wolfing down your meal, you can sit and savor each individual course as it arrives. The time in between each course allows for conversation about the flavors and textures you just experienced. Try a different glass of wine with each course. Ask if the restaurant has a drink pairing menu for the courses.
It is an excuse to say yes to dessert. The last course in many prix-fixe menus is a dessert course. No one has to sheepishly look around the table wondering if anyone else is going to order dessert. It comes with the meal. Go ahead, savor every sweet bite. And since it comes with the meal, you do not have to share with anyone else (unless you want to).
Restaurants highlight chef's favorites and popular entrees during Restaurant Week. Want to know what a restaurant is really good at? Choose an entrée from the Restaurant Week menu. This is a chance for restaurants to show off to people who have not walked through their doors before. It is also a chance to say thank you to regulars who visit all year round.
No one says you cannot visit the same restaurant more than once during Restaurant Week. The prix-fixe menus often present numerous appetizing options. If you really cannot decide between them, make a reservation for more than one night. The menus are typically posted on the Restaurant Week website so you can plan in advance for this delicious predicament. Of course, you will still have to decide which option to try on the first night and which to try on the second night, but Restaurant Week makes these dining experiences more affordable.
The first ever Foodie Film Festival is running in conjunction with Restaurant Week. This is a new and exciting addition that has been included this year. The JPT Film and Events Center is hosting food related films in tandem with the Restaurant Week dates. There will be children's favorites such as Ratatouille and Willy Wonka & the Chocolate Factory, old favorites like Mystic Pizza, mysteries like Who is Killing the Great Chefs of Europe to solve, and modern classics like Julie and Julia. All movies are scheduled for 4:30 or 7:30 pm. Plan a date night with dinner before or after your film.